Week Thirty-Five
Saturday, May 11th, 2013 at 8:34 pm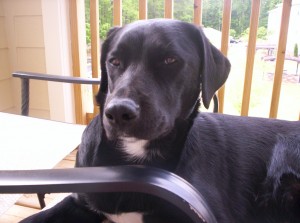 At 6:45, Betsy saw Grace and invited her up into bed. Grace jumped up and we exchanged with her tummy rubs for kisses. I got up and dressed at 7:05. We left at 7:10. When we went to the west woods in front of this complex, Grace bolted after a squirrel. I had to keep the leash secure because the road was just twenty feet away. This pulled me sharply and brought my arch down on a pointed projection of a small trimmed pine tree. It left my arch very sore,  but I was still  able to walk.
Recall Success
Grace finally made it to Bond Park. I practiced recall with her once and gave her a treat. She performed perfectly. We went all the way to the dock and building area before turning back to go home. On the way back, I let her free to run in the woods. She streaked back at least 150 yards into the woods. It took about three minutes for her to come back after about five whistles. Eventually she came running. That was a relief.
Morning Down Time
At 9:10, when we returned home, Grace jumped up on the living room ottoman before I could get her to go into the bathroom for a shower. We have a cover over that piece of furniture to keep Grace from scratching it. It also acts as sort of a washable towel on which Grace can dry off. Perhaps that's why she tends to go there when she is a mess. We finally directed her into the bathroom and gave her a shower. After her shower, Grace ate her breakfast.
At 9:25, Grace lay down on the loveseat for a nap. That's where she was when we left her home alone at 10:15. When we returned home at 12:30, Grace was sleeping in the office beneath the window. I greeted her with tummy rubs and she gave me kisses. Grace ate her lunch.
Lounging Through Afternoon
At 12:45, Grace went to the kitchen, sat and gazed at Betsy. Betsy asked me if I had fed her. I told her, "Yes." Grace offered her paw to Betsy. Betsy gave her a dental chew. When Grace finished at 1:00, she went to the patio door to ask to go outside. She curled up on the lounge chair.
Evening Walk
At 5:30, Grace came in. After supper, Grace went outside. She stopped by to see Tucker and Isabella. As we were finishing up, we headed down the stairs near the northeast woods area. There crossing our path was a grey fox with prey, likely a rabbit, in its mouth. Grace tried to chase it, but the leash prevented her. We returned at 6:10 as rain started picking up.
Bully Stick
By 6:25, lesser friends started gathering in the courtyard. Grace saw them and began to whine. I told her to "Leave it." She persisted but understood I wasn't planning to take her out. By 6:35, they had dispersed. When Grace saw that they had left, she resigned herself to work on the two-inch remains of the bully stick. After she polished it off in five minutes, she returned to the balcony lounge chair.
Winding Down
At 9:00, Grace went outside. When she returned home fifteen minutes later, she curled up on the living room chair. When Betsy cooked some late food, the sleepy little Borador perked up and wanted something. I gave her some chicken and potatoes for tricks. She wanted more. I gave her a doggie treat. When she finished, she went to the office to lie on the ottoman and watch out the window. Fifteen minutes later she settled in on the floor next to it to curl up for the night. I finally made it to bed at 11:00.
Monday
Some time during the night Grace joined us in bed. Betsy had some windows open and the temperature outside was in the mid fifties. Perhaps the warmth of the bed covers or my body attracted her. At 6:00, Grace was ready for some attention. I gave her some tummy rubs in bed. At 6:15, she slithered off of the bed and went to the office to watch for friends.
Wet Morning
I worked on the computer a bit. At 7:00, I took Grace out. I should have just left at 6:15, because by 7:45, the rain was strong enough to bring us home. Grace met a few dogs along the way, but despite her best efforts, they offered not play opportunities. When we returned home, Grace curled up in a tight ball in the living room chair for a nap. At 9:00, she moved down to the floor, pulled her giraffe toy form her toy box and began to gently chew on it.
Playmate Sighting
At 9:30, Grace spotted Olive. We raced downstairs. Grace caught up with Olive after running south and then circling around north. Grace and Olive wrestled for fifteen minutes. When Fraggle came out, Grace focused on playing with her. Olive left at 9:45. When the rain picked up at 10:00, we returned home. Grace went out on the balcony lounge chair to dry off, watch, and relax.
Mid-Day Outing
At 11:55, I called Grace in to go for a ride. It took me just a few minutes to get ready, but Grace was indignant about my calling her in and then delaying. We needed to dodge the rain showers and decided to do our run first. That worked out fairly well. It was just Grace and I at the park. She followed me around fairly closely but did venture across the meadow and down to the pond a few times. It was drizzling by the last few laps but it was not bad.
Grace came immediately on recall. Next, we stopped at the post office to mail a letter. Grace waited patiently sitting up in the passenger seat and watching for my return. I came back in five to ten minutes and gave her a treat for waiting. When we returned home at 1:15, Grace took a shower. After her shower, she ate lunch. After lunch, she asked me for more. I gave her a doggie treat and a pine cone she had found a few weeks ago. After completing her treat, she worked on her pine cone for about fifteen minutes before retreating to the lounge chair. By 2:20, Grace was fast asleep.
Evening Adventures
Grace stirred and perked up as she heard Betsy's footsteps as she returned home. Grace got up and met her as she arrived. At 5:05, Grace let me know it was time for her supper. At 5:15, Betsy took Grace downstairs to mail some letters and go for a walk. When they returned at 6:00, Grace went out on the balcony to watch for friends. At 6:25, Grace saw Ada playing with Luna. At 6:30, I finally relented and took her down.
Grace and Ada had a great time wrestling. At 7:15, Olive joined in. The three played chase and wrestled. They broke up around 8:00. We made it home at 8:15. Grace did tricks for scraps as I gave him chicken bone joints. At 8:30, she lay on the dining room floor and fell asleep.
Tuesday
During the night, Grace joined us at the foot of the bed. At 6:00, she was ready for some attention. We petted her for a while. At 6:30, she slithered off of the bed, and I got up. We went outside at 6:40. After all of the rain, the ground was particularly wet. This had Grace even more interested than usual that following her nose. She meandered around the complex, spending most of her outing in the south woods.
Morning Relaxing
When we returned home at 8:10, Grace took a shower. After her shower, she ate breakfast, went to the office to look for friends, and finally curled up on the floor for her morning nap. At 10:30, she went out on the lounge chair. She spotted Betsy returning at 11:40 and asked to come in. Grace happily greeted her. At noon, Grace had her breakfast. She became impatient as we waited to go for our run.
Park Outing
At 12:40, Betsy was finally ready and we went off to run at Salem Pond Park. After a few laps, a maintenance worker from the city arrived. We headed back to the car to get Grace's leash and harness. Grace was following Betsy, so I went back to running. Then Grace came my way and headed for the truck. I whistled to recall her. She came immediately. I gave her a treat and held her until Betsy came with the leash and harness.
Grace played with Grace on the leash for a while, but then she spotted a couple of geese in the meadow. Betsy just had to let her go to chase them. The maintenance man spotted Grace off of the leash and suggested that Betsy hook her back up. Grace ran one lap around with me on a leash, but it was difficult as Grace was torn between staying with me and keeping watch in Betsy who trailed far behind.
Afternoon Play with Friends
When we returned home at 2:00, there was Olive. Grace and Olive played for thirty minutes in the courtyard. When she returned home Grace went to the lounge chair to enjoy the pleasant, sunny, 70 degree weather. At 3:45, Grace came inside and jumped up on the loveseat for some serious napping. At 5:30, she awoke. I exchanged tummy rubs for kisses. At 5:40, she went out on the balcony to enjoy the spring air and sunshine and watch for friends.
At 5:50, Grace spotted Fraggle and went out to play with her. Before long, Ada came by to join in the fun. The young lady with Ada had those buggy sunglasses on. That spooked Grace. I told her and she flipped them up. Grace was fine then. Ten minutes later, Trixie joined in. They continued to play until 6:30, when everyone went home. Grace stuck around the courtyard and interacted with some young children and did a bit of turf surfin' before finally coming inside at 6:45.
Winding Down
She went over to the balcony doors and lay on the floor to recharge. Grace went out on the balcony for about an hour and returned inside at 8:20. She hit me up for another doggie treat and then moved to the office to be with Betsy. At 9:10, Grace went outside for the last time. She met Olive and wrestled with her for ten minutes. When we returned a 9:30, she went to bed in the office.
Wednesday
Grace spent all night in the office. When I got up at 6:40, she was lying on the office ottoman watching geese in the courtyard through the window. At 7:30, I prepared to take her out — intentionally making sounds that would indicate that. After a minute, she received the message and came out.
Morning Play
We went down and met Olive. They walked together and finally stopped in a grassy area to play. Both were pretty restrained in their play, but they did get some fun wrestling in. After ten minutes of mixing it up, they were joined by